Hi, welcome to Wikia Developers Wiki! Thanks for your edit to the Talk:ArchiveTool page.
Please leave a message on my talk page if I can help with anything! -- Wikia (Talk) 17:31, August 19, 2011
UserTags
Edit
Just a heads up. UserTags is currently broken on tardis wiki.
You're loading w:c:dev:UserTags/code.js instead of w:c:dev:UserTags/code.min.js. You need to load the min.js file as it contains the bootstrap code (loading /code.js directly will just cause an instant abort [USERTAGS: Script not loaded by a supported loader! Aborting.] which is why it isn't working). Lunarity 07:29, October 16, 2012 (UTC)
Never mind. The .min.js was a legacy thing I was only keeping for backwards compatibility (since I thought everyone was using that). Loading /code.js directly should work correctly now. Lunarity 08:05, October 16, 2012 (UTC)
Tardis Wiki Block (Sorry!)
Edit
Introduction To I am Sorry
Edit
I am sorry for all that i did in the past, I was new to your wiki and I should have read the video laws on your wiki and it was lame for me to do that. Is it a possiblity if I can have it taken down from a lifetime to a three month block, due to I have learnt a lession. I have been blocked since May 4th 0f this year, which makes it seven months since I was blocked next month and if I had another three more months it would be ten months since I was blocked. If that is not possible then I would be happy to be blocked until May 4th of next year, which is totally fair, in my books, which makes it a full year.
Picture/Screenshot of Block
Edit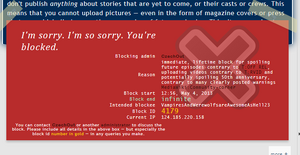 Conclusion
Edit
If I can take anything back I would, it is just that I am a huge fan of the series. It would be very nice if I could have my block taken down from a lifetime block to a year block due to I am so so so so sorry for what I have done. If I were you, I would have done the same. It is just me and my weird brian and for that, I am sorry! I am going to read the rules of the wiki in the time being. Because you have a stressful job in being an admin to a horrible user like myself. At the end, you had to do what is best for the wiki and for that I am grateful you acted, it is kind of a galifray sentence, like I was sent there to serve out my sentence along with the master from what seems to be a horrible act.
Point One - You acted they way you did due to you were doing what is best for the wiki.
Point Two - You were acting for the grater good for the other uses that didn't need someone like me to wreck it for them
Point Three - The Wiki doesn't need to have a user like me on it
Point Four - Users like myself are horrible
Point Five - I am a stupid person that spoils things on people
Point Six - I deserve to be punished hugely
Point Eight - I am a weird person
Point Nine - Under the laws of the wiki, I should have been blocked.
Point Ten - The Wiki has got nothing to win with me on the wiki, due to I spoil everything on the users.
So please forgive me.
(Vamps (My Wall) - (talk)